Make a date with discovery at Imperial Festival - a free weekend of hands on science, new technology, live music, fascinating talks, creative workshops and tasty street food!
Register here to receive previews on the Festival programme and help us track attendance numbers.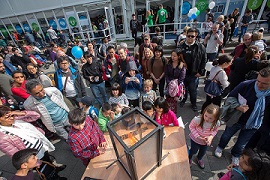 Explore the science of drumming, take on a robotic arm at air hockey, or play classic video games or compose beautiful music with just your brain waves. Alternatively learn what impact London is having on our health, try out special air pollution sensors, and find out how you could make your daily commutes a little bit healthier.
The annual Imperial Festival returns for its seventh year on 28-29 April at the College's South Kensington Campus with a showcase of technological marvels to celebrate of the Year of Engineering, a hands on zone for families, and talks from world-leading thinkers and doers.
The public will also have the chance to go behind-the-scenes and explore the latest research and innovations from Imperial College London though interactive demonstrations, workshops and live experiments.
Creativity and culture will also be at the forefront with vibrant live musical and dance performances, a theatrical performance exploring the boundaries between medicine and the arts, plus delicious treats from some of London's best street food vendors.
More than 150 exhibits will be on show at the Festival, grouped into themed areas including new zones:
Event date:
Saturday, April 28, 2018 - 09:15