To celebrate UK Robotics Week 2017, local school students starred in an Autonomous Systems film made in response to the EPSRC Robotics and Aeronautics (RAS) Grand Challenge 2017. The world première of our Grand Challenge short film on emergency resilience and disaster response, was held on Monday 26th June 2017.
The film received a positive reception, illustrating the importance of robotics research and demonstrating that such research can confer vital benefits to society.
The film, shot at a decommissioned power station in Fawley, showed robots going into areas too dangerous for people, sending vital data that enables in determining the best course of action in disaster response.  In this important area, robots can help in situations that are too extreme for humans. They can go far below sea level or into space at no risk to humans. The film provided an exciting look at the range and scale of robotics activity in the UK and showcased both current and future potential impact.
 WATCH THE TRAILER!
Members of the Autonomous Systems USRG worked with Hampshire Fire and Rescue and the Police on research and these organisations also participated in the film as you can see from the accompanying image, taken at the end of the first day of filming. The group also includes students from New Forest Academy, the team at Fawley and the film crew from Robin Creative Media.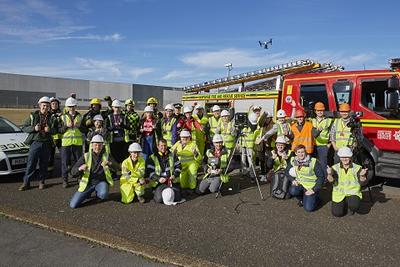 At the end of a successful day 1 of filming
Speaker information
Professor Mark Spearing,Vice-President Research & Enterprise will introduce the event
Professor James Scanlan,Director of the Autonomous Systems USRG will introduce the film